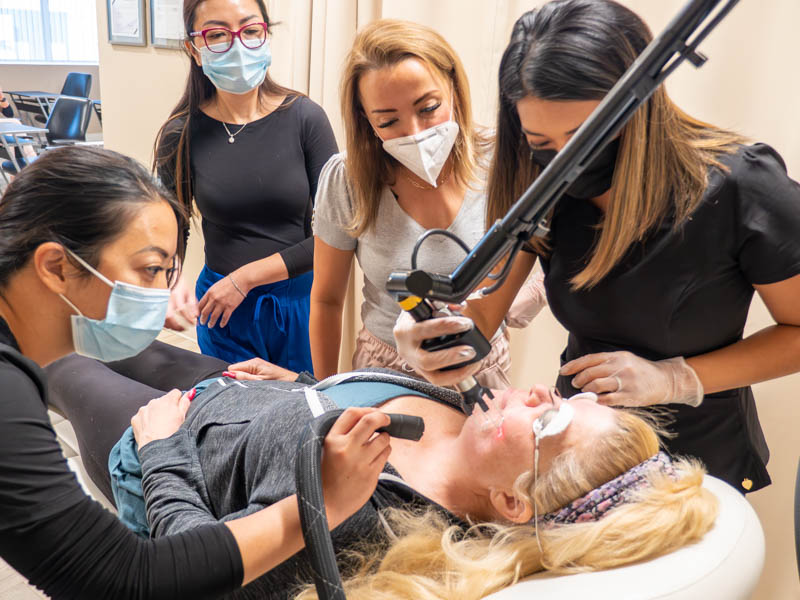 Celebrating our 75th Year!
TAP FOR DATES and TAP FOR COST. Chat directly with our College Administrator by calling 303-237-9100.
The Rocky Mountain Laser College is the world's oldest and most prestigious cosmetic laser training college. We started in 1948 as the Rocky Mountain College of Electrolysis. Then in 1996, the Food and Drug Administration (FDA) approved the use of aesthetic lasers for hair removal and our courses changed to the new technology along with our name, and we have been training laser ever since. Today, RMLC has the most technologically advanced lasers from multiple different manufacturers for laser training.
The Certified Laser Specialist® is a trademarked credential, available only from the Rocky Mountain Laser College. Our laser training school curriculum is approved and regulated by the Colorado Department of Higher Education, Division of Private Occupational Schools Board. Colorado residents are encouraged to hold an aesthetician or cosmetology license before taking our course. All of our instructors are employees of the Laser College and practice what they teach by providing these services to the general public each day.
What makes laser training from Rocky Mountain Laser College unique?
The Certified Laser Specialist® is a registered trademark with the US Patent and Trademark Office.
The CLS laser training credential is only available through the Rocky Mountain Laser College.
We are a laser training facility, not just a clinic performing treatments for you to observe.
RMLC is approved and regulated by the Colorado Department of Higher Education.
6 days of intense classroom and hands-on here at the Laser College.
Laser basics are done from your home computer, at your own pace.
Why attend Rocky Mountain Laser College?
We teach all the modalities of laser hair removal, laser tattoo removal and laser skin rejuvenation.
Our Laser Skin Rejuvenation class teaches Co2 fractional and gives hand-on training on the Co2.
Lasers and Intense Pulse Light (IPL) machines are different and you will learn why.
We do not sell lasers and we do not get commissions when a graduate buys a laser.
We use the newest technology and techniques for the most effective results.
Our laser training pricing is straight forward, no additions or hidden fees.
We stress laser physics, so you know what your device can and cannot do!
We are not affiliated with any single manufacturer.
Reasons to Attend a Regulated School
Admissions agents are certified.
State-regulated directors and instructors.
Facilities are inspected by State Education officials.
Employers recognize regulated schools as quality institutions.
The laser training curriculum is State approved, reviewed by experts in the field.
The complaint process gives students access to a regulatory agency.
Facilities meet state and local building, fire and health codes.
Refund policies are determined by state regulations.
State-approved requirements for admission.
Instructors are employees and not 1099's.
Approved and regulated schools meet or exceed the standards required by the Colorado Dept. of Higher Education, Division of Private Occupational Schools Board.
We are a proud member of the ASLMS, you should be too.